PANSY: EARLY BLOOMER THAT LIKES COOL WEATHER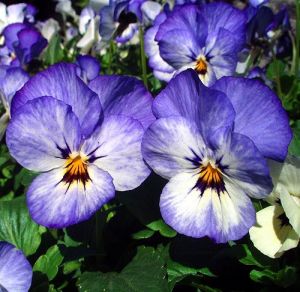 The only flower that blooms early in the cool of spring and has vivid colors is the pansy. They are part of the same family as violets. Pansies come in almost every color or combination of colors and will bloom before your spring bulbs pop up. Pansies can also be planted in late fall and will bloom until the frost and may bloom from time to time over the winter depending on the weather.
POTTED PLANTS  and FLATS are AVAILABLE NOW!
Advanced land management is still planting flats at $25 per flat there are 24 plants to a flat. If you are eager to get your hands in the soil yourself many large garden centers such as Lowe's and Home Depot  are carrying pansies in pots, ready to plant.
PANSIES ARE EASY TO GROW
Pansies are not real picky about the soil they grow in, however, the high heat of summer can make them sad and wilted. If you are not replacing them with petunias or another summer tolerant annual plant your pansies early and plant them in partial shade for the best chance of survival. You're going to want them about 6" apart. Don't worry if you crowd them a little, they do not spread much. For all your Landscaping needs: advancedlandmanagement.com